If you have ever mentioned veganism to anyone who isn't vegan, one of the most common responses you might hear is "oh, wow…. but pizza is one of the greatest pleasures in life!" They aren't wrong, and luckily the pizza gods blessed the vegans in Syracuse with the vegan-friendly Peppino's Neapolitan.
Conveniently located, Peppino's Neapolitan is right in the heart of Armory Square, at 409 S Clinton St. Syracuse, NY 13202.  When I walked in- the lighting, the smells, the warmth from the pizza oven… everything was right. It was almost as if the restaurant was giving me a hug, I knew this was going to be a memorable experience.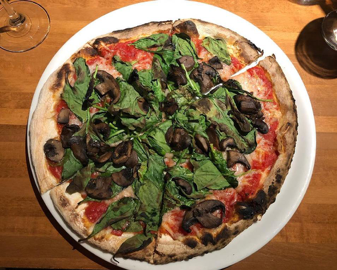 Upon arrival, my sister explained it was my birthday and that we were vegan.  Without hesitation, the waitress explained the many options we had to choose from!  There were more than just a few items on the menu that I could have chosen from, but I decided to make my own pizza; a small pizza with the house sauce, vegan cheese, mushrooms and some spinach. My sister ordered a "white" pizza – she also made her own. On the pizza, she got garlic oil, vegan cheese and more vegan cheese. Needless to say, they were both out of this world.
While we were waiting for our pizzas, the chef – who is also vegan, came to our table to made a suggestion to my sister to try truffle oil with her "white" pizza. Her coming to the table to interact and make simple conversation with us made this dining experience a very comfortable one.  She also explained there are no vegan items on the dessert menu (at the moment… hint hint) but she would be willing to create one for us…if we were willing to wait. DUH, we waited.
When she came out to the table with my dessert and my mouth instantly began to water. It was a little pocket of delicious dough with a warm apple filling… my mouth is watering just writing about it.
I was informed that within the next few months they are giving their menu a makeover.  There will be plenty more vegan options to choose from on both the food and dessert menu! Vegan tastes and feels great, my friends! Cheers.
For a searchable list and interactive map of restaurants in and around Central New York, check out our guide here.